Guarnizioni tipo FSS in poliuretano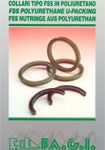 Condition of use:
Type FSS polyurethane gaskets must be used in working conditions within the following limits:
- Pressure 0 to 500 bar (50 Mpa or N/mm);
- Temperature -40 to 105°C
- Speed up to 0,8 m/sec. (50 m/min)
- Fluids: mineral hydraulic oils, mineral lubricants.
Please will contact our engineering department if you have particular operating conditions.

Assembly:
The assembly of gaskets for FSS-type rods is not particularly difficult because the material is elastic and highly tear resistant, which eliminates the risk of damage to the sealing lips during assembly.
It is useful, though not indispendable, to lubricate the seat and the gasket using the same fluid as in the system or chemically compatible lubricant.



| | | | | | | | |
| --- | --- | --- | --- | --- | --- | --- | --- |
| Ref. Nr. | | | d | D | h | H | T |
| FSS | 3 | 9 | 3,0 | 9,0 | 4,5 | 5,0 | 5,0 |
| FSS | 4 | 8 | 4,0 | 8,0 | 4,5 | 5,0 | 5,0 |
| FSS | 4 | 10/1 | 4,0 | 10,0 | 4,0 | 4,5 | 6,0 |
| FSS | 4 | 10 | 4,0 | 10,0 | 4,5 | 5,0 | 6,0 |
| FSS | 4,5 | 11 | 4,5 | 11,0 | 5,0 | 5,5 | 6,5 |
| FSS | 4,5 | 12,5 | 4,5 | 12,5 | 4,5 | 5,0 | 6,5 |
| FSS | 5 | 12/1 | 5,0 | 12,0 | 5,0 | 5,5 | 7,0 |
| FSS | 5 | 12 | 5,0 | 12,0 | 6,0 | 6,3 | 7,0 |
| FSS | 5 | 12/2 | 5,0 | 12,0 | 6,0 | 6,5 | 7,0 |
| FSS | 5 | 17 | 5,0 | 17,0 | 9,0 | 10,0 | 11,0 |
| FSS | 6 | 12/1 | 6,0 | 12,0 | 4,0 | 4,5 | 8,0 |
| FSS | 6 | 12/2 | 6,0 | 12,0 | 5,5 | 6,0 | 8,0 |
| FSS | 6 | 12 | 6,0 | 12,0 | 6,0 | 6,5 | 8,0 |
| FSS | 6 | 12,7 | 6,0 | 12,7 | 5,5 | 6,5 | 8,0 |
| FSS | 6 | 15 | 6,0 | 15,0 | 8,0 | 9,0 | 9,0 |
| FSS | 7 | 14 | 7,0 | 14,0 | 3,5 | 4,2 | 9,0 |
| FSS | 7 | 15 | 7,0 | 15,0 | 7,0 | 8,0 | 9,0 |
| FSS | 8 | 12 | 8,0 | 12,0 | 2,4 | 3,5 | 10,0 |
| FSS | 8 | 14 | 8,0 | 14,0 | 6,0 | 7,0 | 10,0 |
| FSS | 8 | 15 | 8,0 | 15,0 | 5,7 | 6,3 | 10,0 |
| FSS | 8 | 15/1 | 8,0 | 15,0 | 8,0 | 9,0 | 10,0 |
| FSS | 8 | 16 | 8,0 | 16,0 | 5,7 | 6,3 | 10,0 |
| FSS | 8 | 18 | 8,0 | 18,0 | 9,0 | 10,0 | 11,0 |
| FSS | 8 | 22 | 8,0 | 22,0 | 8,0 | 9,0 | 11,0 |
| FSS | 9 | 15 | 9,0 | 15,0 | 8,0 | 9,0 | 12,0 |
| FSS | 9 | 19 | 9,0 | 19,0 | 6,0 | 7,0 | 12,0 |
| FSS | 10 | 16 | 10,0 | 16,0 | 6,0 | 6,5 | 12,0 |
| FSS | 10 | 16/1 | 10,0 | 16,0 | 5,5 | 6,0 | 12,0 |
| FSS | 10 | 18/1 | 10,0 | 18,0 | 5,5 | 6,0 | 12,0 |
| FSS | 10 | 18/2 | 10,0 | 18,0 | 6,0 | 7,0 | 12,0 |
| FSS | 10 | 18 | 10,0 | 18,0 | 8,0 | 9,0 | 12,0 |
| FSS | 10 | 20 | 10,0 | 20,0 | 8,0 | 9,0 | 12,0 |
| FSS | 10 | 22 | 10,0 | 22,0 | 6,0 | 7,0 | 13,0 |
| FSS | 10 | 22/1 | 10,0 | 22,0 | 8,0 | 9,0 | 13,0 |
| FSS | 11 | 17 | 11,0 | 17,0 | 4,4 | 5,0 | 13,0 |
| FSS | 11 | 20,5 | 11,0 | 20,5 | 6,0 | 7,0 | 13,0 |
| FSS | 12 | 18 | 12,0 | 18,0 | 6,0 | 7,0 | 14,0 |
| FSS | 12 | 20 | 12,0 | 20,0 | 8,0 | 9,0 | 14,0 |
| FSS | 12 | 22/1 | 12,0 | 22,0 | 5,0 | 6,0 | 15,0 |
| FSS | 12 | 22 | 12,0 | 22,0 | 7,0 | 8,0 | 15,0 |
| FSS | 12 | 22/2 | 12,0 | 22,0 | 8,0 | 9,0 | 15,0 |
| FSS | 12 | 24 | 12,0 | 24,0 | 8,0 | 9,0 | 15,0 |
| FSS | 12 | 24/1 | 12,0 | 24,0 | 9,0 | 10,0 | 15,0 |
| FSS | 12 | 25 | 12,0 | 25,0 | 8,0 | 9,0 | 15,0 |
| FSS | 12 | 25/1 | 12,0 | 25,0 | 10,0 | 11,0 | 15,0 |
| FSS | 14 | 20 | 14,0 | 20,0 | 4,8 | 5,3 | 16,0 |
| FSS | 14 | 22 | 14,0 | 22,0 | 6,0 | 7,0 | 16,0 |
| FSS | 14 | 22/1 | 14,0 | 22,0 | 8,0 | 9,0 | 16,0 |
| FSS | 14 | 22/2 | 14,0 | 22,0 | 11,0 | 12,0 | 16,0 |
| FSS | 14 | 24 | 14,0 | 24,0 | 8,0 | 9,0 | 16,0 |
| FSS | 15 | 25 | 15,0 | 25,0 | 8,0 | 9,0 | 18,0 |
| FSS | 15 | 27 | 15,0 | 27,0 | 6,0 | 7,0 | 18,0 |
| FSS | 15 | 28 | 15,0 | 28,0 | 10,0 | 11,0 | 18,0 |
| FSS | 16 | 22/1 | 16,0 | 22,0 | 4,0 | 4,5 | 18,0 |
| FSS | 16 | 22 | 16,0 | 22,0 | 5,0 | 5,5 | 18,0 |
| FSS | 16 | 24 | 16,0 | 24,0 | 9,0 | 10,0 | 18,0 |
| FSS | 16 | 24/1 | 16,0 | 24,0 | 5,0 | 6,0 | 18,0 |
| FSS | 16 | 26 | 16,0 | 26,0 | 5,0 | 6,0 | 19,0 |
| FSS | 16 | 26/1 | 16,0 | 26,0 | 8,0 | 9,0 | 19,0 |
| FSS | 16 | 28 | 16,0 | 28,0 | 6,0 | 7,0 | 19,0 |
| FSS | 16 | 32 | 16,0 | 32,0 | 8,0 | 9,0 | 19,0 |
| FSS | 17 | 25 | 17,0 | 25,0 | 10,0 | 11,0 | 19,0 |
| FSS | 18 | 25 | 18,0 | 25,0 | 5,0 | 5,5 | 20,0 |
| FSS | 18 | 26/1 | 18,0 | 26,0 | 6,5 | 7,5 | 20,0 |
| FSS | 18 | 26/2 | 18,0 | 26,0 | 8,0 | 9,0 | 20,0 |
| FSS | 18 | 26 | 18,0 | 26,0 | 8,5 | 9,5 | 20,0 |
| FSS | 18 | 28 | 18,0 | 28,0 | 8,0 | 9,0 | 21,0 |
| FSS | 18 | 30 | 18,0 | 30,0 | 8,0 | 9,0 | 21,0 |
| FSS | 19 | 25 | 19,0 | 25,0 | 6,0 | 7,0 | 21,0 |
| FSS | 20 | 28 | 20,0 | 28,0 | 4,0 | 5,0 | 22,0 |
| FSS | 20 | 28/1 | 20,0 | 28,0 | 8,0 | 9,0 | 22,0 |
| FSS | 20 | 29 | 20,0 | 29,0 | 5,0 | 5,5 | 22,0 |
| FSS | 20 | 30 | 20,0 | 30,0 | 8,0 | 9,0 | 23,0 |
| FSS | 20 | 30/1 | 20,0 | 30,0 | 10,0 | 11,0 | 23,0 |
| FSS | 20 | 32 | 20,0 | 32,0 | 7,5 | 8,5 | 23,0 |
| FSS | 20 | 35 | 20,0 | 35,0 | 12,0 | 13,0 | 23,0 |
| FSS | 20 | 39 | 20,0 | 39,0 | 10,0 | 11,0 | 23,0 |
| FSS | 20 | 40 | 20,0 | 40,0 | 10,0 | 11,0 | 24,0 |
| FSS | 20 | 40/1 | 20,0 | 40,0 | 12,0 | 13,0 | 24,0 |
| ESS | 22 | 28 | 22,0 | 28,0 | 8,0 | 9,0 | 24,0 |
| FSS | 22 | 30 | 22,0 | 30,0 | 6,0 | 7,0 | 24,0 |
| FSS | 22 | 30/1 | 22,0 | 30,0 | 10,0 | 11,0 | 24,0 |
| FSS | 22 | 32 | 22,0 | 32,0 | 8,0 | 9,0 | 25,0 |
| FSS | 22 | 32/1 | 22,0 | 32,0 | 10,0 | 11,0 | 25,0 |
| FSS | 22 | 35 | 22,0 | 35,0 | 10,0 | 11,0 | 25,0 |
| FSS | 24 | 32 | 24,0 | 32,0 | 7,0 | 8,0 | 26,0 |
| FSS | 24 | 40 | 24,0 | 40,0 | 8,0 | 9,0 | 27,0 |
| FSS | 25 | 35 | 25,0 | 35,0 | 5,0 | 5,5 | 28,0 |
| FSS | 25 | 35/2 | 25,0 | 35,0 | 8,0 | 9,0 | 28,0 |
| FSS | 25 | 35/1 | 25,0 | 35,0 | 10,0 | 11,0 | 28,0 |
| FSS | 25 | 38 | 25,0 | 38,0 | 10,0 | 11,0 | 28,0 |
| FSS | 25 | 40 | 25,0 | 40,0 | 10,0 | 11,0 | 28,0 |
| FSS | 28 | 35 | 28,0 | 35,0 | 5,0 | 5,5 | 30,0 |
| FSS | 28 | 36 | 28,0 | 36,0 | 6,5 | 7,5 | 30,0 |
| FSS | 28 | 38 | 28,0 | 38,0 | 8,0 | 9,0 | 31,0 |
| FSS | 28 | 40 | 28,0 | 40,0 | 10,0 | 11,0 | 31,0 |
| FSS | 30 | 38 | 30,0 | 38,0 | 6,0 | 6,5 | 32,0 |
| FSS | 30 | 40/1 | 30,0 | 40,0 | 5,0 | 5,5 | 33,0 |
| FSS | 30 | 40 | 30,0 | 40,0 | 10,0 | 11,0 | 33,0 |
| FSS | 30 | 42/1 | 30,0 | 42,0 | 9,0 | 10,0 | 33,0 |
| FSS | 30 | 42 | 30,0 | 42,0 | 10,0 | 11,0 | 33,0 |
| FSS | 30 | 45 | 30,0 | 45,0 | 10,0 | 11,0 | 34,0 |
| FSS | 30 | 50/1 | 30,0 | 50,0 | 10,0 | 11,0 | 34,0 |
| FSS | 30 | 50 | 30,0 | 50,0 | 12,0 | 13,0 | 34,0 |
| FSS | 32 | 40 | 32,0 | 40,0 | 5,5 | 6,0 | 34,0 |
| FSS | 32 | 40/1 | 32,0 | 40,0 | 8,0 | 9,0 | 34,0 |
| FSS | 32 | 42 | 32,0 | 42,0 | 10,0 | 11,0 | 35,0 |
| FSS | 32 | 45 | 32,0 | 45,0 | 10,0 | 11,0 | 35,0 |
| FSS | 32 | 50 | 32,0 | 50,0 | 12,0 | 13,0 | 36,0 |
| FSS | 34 | 45 | 34,0 | 45,0 | 7,0 | 8,0 | 37,0 |
| FSS | 34 | 45/1 | 34,0 | 45,0 | 9,0 | 10,0 | 37,0 |
| FSS | 34 | 70 | 34,0 | 70,0 | 10,0 | 11,0 | 37,0 |
| FSS | 34 | 50 | 34,0 | 50,0 | 14,0 | 15,0 | 37,0 |
| FSS | 34 | 74 | 34,0 | 74,0 | 10,0 | 11,0 | 37,0 |
| FSS | 35 | 45/1 | 35,0 | 45,0 | 8,0 | 9,0 | 38,0 |
| FSS | 35 | 45 | 35,0 | 45,0 | 10,0 | 11,0 | 38,0 |
| FSS | 35 | 48 | 35,0 | 48,0 | 10,0 | 11,0 | 38,0 |
| FSS | 35 | 50 | 35,0 | 50,0 | 10,0 | 11,0 | 39,0 |
| FSS | 35 | 55/1 | 35,0 | 55,0 | 10,0 | 11,0 | 39,0 |
| FSS | 35 | 55 | 35,0 | 55,0 | 12,0 | 13,0 | 39,0 |
| FSS | 36 | 46 | 36,0 | 46,0 | 7,0 | 8,0 | 39,0 |
| FSS | 36 | 70 | 36,0 | 70,0 | 10,0 | 11,0 | 39,0 |
| FSS | 38 | 45 | 38,0 | 45,0 | 5,0 | 5,5 | 40,0 |
| FSS | 38 | 46 | 38,0 | 46,0 | 6,5 | 7,5 | 40,0 |
| FSS | 38 | 50 | 38,0 | 50,0 | 9,0 | 10,0 | 41,0 |
| FSS | 38 | 55 | 38,0 | 55,0 | 10,0 | 11,0 | 41,0 |
| FSS | 38 | 58 | 38,0 | 58,0 | 10,0 | 11,0 | 42,0 |
| FSS | 40 | 48 | 40,0 | 48,0 | 11,0 | 12,0 | 42,0 |
| FSS | 40 | 50/1 | 40,0 | 50,0 | 6,5 | 7,5 | 43,0 |
| FSS | 40 | 50/2 | 40,0 | 50,0 | 8,0 | 9,0 | 43,0 |
| FSS | 40 | 50 | 40,0 | 50,0 | 10,0 | 11,0 | 43,0 |
| FSS | 40 | 55 | 40,0 | 55,0 | 10,0 | 11,0 | 44,0 |
| FSS | 40 | 56 | 40,0 | 56,0 | 10,0 | 11,0 | 44,0 |
| FSS | 40 | 60/1 | 40,0 | 60,0 | 10,0 | 11,0 | 45,0 |
| FSS | 40 | 60/2 | 40,0 | 60,0 | 18,0 | 19,0 | 45,0 |
| FSS | 40 | 60 | 40,0 | 60,0 | 13,0 | 14,0 | 45,0 |
| FSS | 40 | 65 | 40,0 | 65,0 | 12,0 | 13,0 | 45,0 |
| FSS | 40 | 70 | 40,0 | 70,0 | 15,0 | 16,0 | 45,0 |
| FSS | 40 | 75 | 40,0 | 75,0 | 10,0 | 11,0 | 45,0 |
| FSS | 42 | 50 | 42,0 | 50,0 | 8,0 | 9,0 | 44,0 |
| FSS | 42 | 52 | 42,0 | 52,0 | 9,0 | 10,0 | 45,0 |
| FSS | 42 | 62 | 42,0 | 62,0 | 12,0 | 13,0 | 47,0 |
| FSS | 45 | 55/1 | 45,0 | 55,0 | 6,5 | 7,5 | 48,0 |
| FSS | 45 | 55 | 45,0 | 55,0 | 10,0 | 11,0 | 48,0 |
| FSS | 45 | 60 | 45,0 | 60,0 | 10,0 | 11,0 | 49,0 |
| FSS | 45 | 63 | 45,0 | 63,0 | 10,0 | 11,0 | 49,0 |
| FSS | 45 | 65 | 45,0 | 65,0 | 10,0 | 11,0 | 50,0 |
| FSS | 45 | 65/1 | 45,0 | 65,0 | 12,0 | 13,0 | 50,0 |
| FSS | 48 | 58 | 48,0 | 58,0 | 10,0 | 11,0 | 51,0 |
| FSS | 50 | 60 | 50,0 | 60,0 | 10,0 | 11,0 | 53,0 |
| FSS | 50 | 60/1 | 50,0 | 60,0 | 11,0 | 12,0 | 53,0 |
| FSS | 50 | 62 | 50,0 | 62,0 | 9,0 | 10,0 | 53,0 |
| FSS | 50 | 63 | 50,0 | 63,0 | 6,0 | 7,0 | 54,0 |
| FSS | 50 | 65 | 50,0 | 65,0 | 10,0 | 11,0 | 54,0 |
| FSS | 50 | 70 | 50,0 | 70,0 | 10,0 | 11,0 | 55,0 |
| FSS | 50 | 70/1 | 50,0 | 70,0 | 12,0 | 13,0 | 55,0 |
| FSS | 50 | 70/2 | 50,0 | 70,0 | 18,0 | 19,0 | 55,0 |
| FSS | 52 | 62 | 52,0 | 62,0 | 12,0 | 13,0 | 55,0 |
| FSS | 53 | 63 | 53,0 | 63,0 | 6,5 | 7,5 | 56,0 |
| FSS | 55 | 65/1 | 55,0 | 65,0 | 10,0 | 11,0 | 58,0 |
| FSS | 55 | 65 | 55,0 | 65,0 | 12,0 | 13,0 | 58,0 |
| FSS | 55 | 70 | 55,0 | 70,0 | 12,0 | 13,0 | 59,0 |
| FSS | 55 | 75 | 55,0 | 75,0 | 12,0 | 13,0 | 60,0 |
| FSS | 55 | 80 | 55,0 | 80,0 | 12,0 | 13,0 | 60,0 |
| FSS | 60 | 70/1 | 60,0 | 70,0 | 8,0 | 9,0 | 63,0 |
| FSS | 60 | 70/2 | 60,0 | 70,0 | 10,0 | 11,0 | 63,0 |
| FSS | 60 | 70 | 60,0 | 70,0 | 12,0 | 13,0 | 63,0 |
| FSS | 60 | 75/1 | 60,0 | 75,0 | 10,0 | 11,0 | 64,0 |
| FSS | 60 | 75 | 60,0 | 75,0 | 12,0 | 13,0 | 64,0 |
| FSS | 60 | 80 | 60,0 | 80,0 | 10,0 | 11,0 | 65,0 |
| FSS | 60 | 80/1 | 60,0 | 80,0 | 12,0 | 13,0 | 65,0 |
| FSS | 60 | 80/2 | 60,0 | 80,0 | 18,0 | 19,0 | 65,0 |
| FSS | 60 | 85 | 60,0 | 85,0 | 12,5 | 13,5 | 65,0 |
| FSS | 60 | 90 | 60,0 | 90,0 | 15,0 | 16,0 | 65,0 |
| FSS | 63 | 75 | 63,0 | 75,0 | 10,0 | 11,0 | 66,0 |
| FSS | 63 | 78 | 63,0 | 78,0 | 10,0 | 11,0 | 67,0 |
| FSS | 63 | 83 | 63,0 | 83,0 | 15,0 | 16,0 | 68,0 |
| FSS | 65 | 75 | 65,0 | 75,0 | 12,0 | 13,0 | 68,0 |
| FSS | 65 | 80/1 | 65,0 | 80,0 | 11,0 | 12,0 | 69,0 |
| FSS | 65 | 80 | 65,0 | 80,0 | 12,0 | 13,0 | 69,0 |
| FSS | 65 | 85/1 | 65,0 | 85,0 | 10,0 | 11,0 | 70,0 |
| FSS | 65 | 85 | 65,0 | 85,0 | 12,0 | 13,0 | 70,0 |
| FSS | 66 | 76 | 66,0 | 76,0 | 8,0 | 9,0 | 69,0 |
| FSS | 66 | 80 | 66,0 | 80,0 | 10,0 | 11,0 | 69,0 |
| FSS | 66 | 80/1 | 66,0 | 80,0 | 13,0 | 14,0 | 69,0 |
| FSS | 67 | 77/1 | 67,0 | 77,0 | 10,0 | 11,0 | 70,0 |
| FSS | 67 | 77 | 67,0 | 77,0 | 12,0 | 13,0 | 70,0 |
| FSS | 70 | 80/3 | 70,0 | 80,0 | 5,0 | 6,0 | 73,0 |
| FSS | 70 | 80/1 | 70,0 | 80,0 | 8,0 | 9,0 | 73,0 |
| FSS | 70 | 80/2 | 70,0 | 80,0 | 10,0 | 11,0 | 73,0 |
| FSS | 70 | 80 | 70,0 | 80,0 | 12,0 | 13,0 | 73,0 |
| FSS | 70 | 85 | 70,0 | 85,0 | 12,0 | 13,0 | 74,0 |
| FSS | 70 | 90 | 70,0 | 90,0 | 12,0 | 13,0 | 75,0 |
| FSS | 70 | 90/1 | 70,0 | 90,0 | 18,0 | 19,0 | 75,0 |
| FSS | 70 | 95 | 70,0 | 95,0 | 12,0 | 13,0 | 75,0 |
| FSS | 75 | 85 | 75,0 | 85,0 | 12,0 | 13,0 | 78,0 |
| FSS | 75 | 90 | 75,0 | 90,0 | 7,5 | 8,5 | 79,0 |
| FSS | 75 | 90/2 | 75,0 | 90,0 | 10,0 | 11,0 | 79,0 |
| FSS | 75 | 90/1 | 75,0 | 90,0 | 12,0 | 13,0 | 79,0 |
| FSS | 75 | 95 | 75,0 | 95,0 | 12,0 | 13,0 | 80,0 |
| FSS | 78 | 93 | 78,0 | 93,0 | 10,5 | 11,5 | 82,0 |
| FSS | 80 | 90 | 80,0 | 90,0 | 10,0 | 11,0 | 83,0 |
| FSS | 80 | 90/1 | 80,0 | 90,0 | 12,0 | 13,0 | 83,0 |
| FSS | 80 | 95 | 80,0 | 95,0 | 12,0 | 13,0 | 84,0 |
| FSS | 80 | 100 | 80,0 | 100,0 | 10,0 | 11,0 | 85,0 |
| FSS | 80 | 100/1 | 80,0 | 100,0 | 12,0 | 13,0 | 85,0 |
| FSS | 82 | 92 | 82,0 | 92,0 | 10,0 | 11,0 | 85,0 |
| FSS | 84,5 | 94 | 84,5 | 94,0 | 8,0 | 8,8 | 89,5 |
| FSS | 85 | 95 | 85,0 | 95,0 | 8,5 | 9,5 | 88,0 |
| FSS | 85 | 95/1 | 85,0 | 95,0 | 12,0 | 13,0 | 88,0 |
| FSS | 85 | 100 | 85,0 | 100,0 | 12,0 | 13,0 | 89,0 |
| FSS | 85 | 105 | 85,0 | 105,0 | 12,0 | 13,0 | 90,0 |
| FSS | 85 | 115 | 85,0 | 115,0 | 15,0 | 16,0 | 90,0 |
| FSS | 90 | 100/2 | 90,0 | 100,0 | 7,0 | 8,0 | 93,0 |
| FSS | 90 | 100 | 90,0 | 100,0 | 8,0 | 9,0 | 93,0 |
| FSS | 90 | 100/1 | 90,0 | 100,0 | 12,0 | 13,0 | 93,0 |
| FSS | 90 | 105 | 90,0 | 105,0 | 12,0 | 13,0 | 94,0 |
| FSS | 90 | 110 | 90,0 | 110,0 | 12,0 | 13,0 | 95,0 |
| FSS | 90 | 110/1 | 90,0 | 110,0 | 18,0 | 19,0 | 95,0 |
| FSS | 90 | 115 | 90,0 | 115,0 | 22,0 | 23,0 | 95,0 |
| FSS | 95 | 110 | 95,0 | 110,0 | 12,0 | 13,0 | 99,0 |
| FSS | 95 | 110/1 | 95,0 | 110,0 | 15,0 | 16,0 | 99,0 |
| FSS | 95 | 112 | 95,0 | 112,0 | 11,0 | 12,0 | 99,0 |
| FSS | 95 | 115 | 95,0 | 115,0 | 12,0 | 13,0 | 100,0 |
| FSS | 95 | 115/1 | 95,0 | 115,0 | 18,0 | 19,0 | 100,0 |
| FSS | 100 | 115 | 100,0 | 115,0 | 12,0 | 13,0 | 104,0 |
| FSS | 100 | 120 | 100,0 | 120,0 | 12,0 | 13,0 | 105,0 |
| FSS | 100 | 125 | 100,0 | 125,0 | 12,0 | 13,0 | 105,0 |
| FSS | 100 | 125/1 | 100,0 | 125,0 | 15,0 | 16,0 | 105,0 |
| FSS | 100 | 130 | 100,0 | 130,0 | 12,0 | 13,0 | 105,0 |
| FSS | 105 | 120 | 105,0 | 120,0 | 8,0 | 9,0 | 109,0 |
| FSS | 105 | 120/1 | 105,0 | 120,0 | 15,0 | 16,0 | 109,0 |
| FSS | 105 | 125/1 | 105,0 | 125,0 | 12,0 | 13,0 | 110,0 |
| FSS | 105 | 125 | 105,0 | 125,0 | 15,0 | 16,0 | 110,0 |
| FSS | 106 | 120 | 106,0 | 120,0 | 8,5 | 9,5 | 111,0 |
| FSS | 110 | 125 | 110,0 | 125,0 | 12,0 | 13,0 | 114,0 |
| FSS | 110 | 125/1 | 110,0 | 125,0 | 15,0 | 16,0 | 114,0 |
| FSS | 110 | 130 | 110,0 | 130,0 | 15,0 | 16,0 | 115,0 |
| FSS | 110 | 130/1 | 110,0 | 130,0 | 18,0 | 19,0 | 115,0 |
| FSS | 113 | 125 | 113,0 | 125,0 | 9,5 | 10,5 | 116,0 |
| FSS | 115 | 126 | 115,0 | 126,0 | 15,0 | 16,0 | 118,0 |
| FSS | 115 | 135 | 115,0 | 135,0 | 15,0 | 16,0 | 118,0 |
| FSS | 115 | 140/1 | 115,0 | 140,0 | 15,0 | 16,0 | 120,0 |
| FSS | 115 | 140 | 115,0 | 140,0 | 22,0 | 23,0 | 120,0 |
| FSS | 120 | 130 | 120,0 | 130,0 | 14,0 | 15,0 | 123,0 |
| FSS | 120 | 135 | 120,0 | 135,0 | 15,0 | 16,0 | 124,0 |
| FSS | 120 | 140 | 120,0 | 140,0 | 15,0 | 16,0 | 125,0 |
| FSS | 125 | 140 | 125,0 | 140,0 | 11,0 | 12,0 | 129,0 |
| FSS | 125 | 140/1 | 125,0 | 140,0 | 15,0 | 16,0 | 129,0 |
| FSS | 125 | 145 | 125,0 | 145,0 | 15,0 | 16,0 | 130,0 |
| FSS | 125 | 145/1 | 125,0 | 145,0 | 18,0 | 19,0 | 130,0 |
| FSS | 125 | 155 | 125,0 | 155,0 | 15,0 | 16,0 | 130,0 |
| FSS | 130 | 150 | 130,0 | 150,0 | 15,0 | 16,0 | 135,0 |
| FSS | 135 | 155 | 135,0 | 155,0 | 15,0 | 16,0 | 140,0 |
| FSS | 135 | 160 | 135,0 | 160,0 | 15,0 | 16,0 | 140,0 |
| FSS | 140 | 155/AI | 140,0 | 155,0 | 15,0 | 16,0 | 144,0 |
| FSS | 140 | 160/1 | 140,0 | 160,0 | 12,0 | 13,0 | 145,0 |
| FSS | 140 | 160 | 140,0 | 160,0 | 15,0 | 16,0 | 145,0 |
| FSS | 145 | 165 | 145,0 | 165,0 | 15,0 | 16,0 | 150,0 |
| FSS | 150 | 170 | 150,0 | 170,0 | 15,0 | 16,0 | 155,0 |
| FSS | 150 | 170/1 | 150,0 | 170,0 | 18,0 | 19,0 | 155,0 |
| FSS | 160 | 180 | 160,0 | 180,0 | 15,0 | 16,0 | 165,0 |
| FSS | 170 | 190 | 170,0 | 190,0 | 15,0 | 16,0 | 175,0 |
| FSS | 170 | 200 | 170,0 | 200,0 | 18,0 | 19,0 | 175,0 |
| FSS | 175 | 200 | 175,0 | 200,0 | 15,0 | 16,0 | 180,0 |
| FSS | 180 | 200 | 180,0 | 200,0 | 15,0 | 16,0 | 185,0 |
| FSS | 180 | 220 | 180,0 | 220,0 | 20,0 | 21,0 | 185,0 |
| FSS | 200 | 225 | 200,0 | 225,0 | 18,2 | 19,0 | 206,0 |