Guarnizioni per pistone FP.K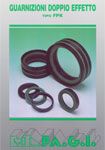 Conditions of use:
Type FP.K gaskets must be used in working conditions within the following limits:
- Pressure: 0 to 400 Bar;
- Temperature: -35 +110°C;
- Speed: max 0,5 m/sec.
Please contact our engineering department if you have particular operating conditions.

Assembly:
The assembly must be made in the following sequence: rubber seal, antiextrusion rings, guide rings: take care that the gaps of the antiextrusion rings and of the guide rings will be settled in staggering positions.
Sharp edges and burrs must be remeved from the housing of the seals.



| | | | | | | |
| --- | --- | --- | --- | --- | --- | --- |
| Riferimento | D | d | H | G | M | P |
| FP.K 085000 | 20,0 | 11,0 | 13,5 | 2,1 | 17 | 19 |
| FP.K 087000 | 22,0 | 13,0 | 13,5 | 2,1 | 19 | 21 |
| FP.K 098000 | 25,0 | 15,0 | 12,0 | 4 | 21 | 23 |
| FP.K 098059 | 25,0 | 15,0 | 16,4 | 6,35 | 21,45 | 23,5 |
| FP.K 099000 | 25,0 | 16,0 | 13,5 | 2,1 | 22 | 24 |
| FP.K 100000 | 28,0 | 19,0 | 13,5 | 2,1 | 25 | 27 |
| FP.K 120000 | 30,0 | 21,0 | 13,5 | 2,1 | 27 | 29 |
| FP.K 125000 | 32,0 | 22,0 | 15,5 | 2,6 | 28 | 31 |
| FP.K 125086 | 32,0 | 22,0 | 16,4 | 6,35 | 28,5 | 30,5 |
| FP.K 126000 | 35,0 | 25,0 | 15,5 | 2,6 | 31 | 34 |
| FP.K 127000 | 35,0 | 25,0 | 16,4 | 6,35 | 31,4 | 33,5 |
| FP.K 156000 | 40,0 | 24,0 | 18,4 | 3,35 | 35,4 | 38,5 |
| FP.K 157000 | 40,0 | 26,0 | 15,5 | 2,6 | 36 | 39 |
| FP.K 157118 | 40,0 | 30,0 | 16,4 | 6,35 | 35,4 | 38,5 |
| FP.K 158000 | 40,0 | 30,0 | 12,5 | 4 | 36 | 38 |
| FP.K 158000/1 | 40,0 | 30,0 | 12,5 | 4 | 37 | 39 |
| FP.K 165000 | 42,0 | 28,0 | 15,5 | 2,6 | 38 | 41 |
| FP.K 175000 | 45,0 | 29,0 | 18,4 | 6,35 | 40,4 | 44 |
| FP.K 176000 | 45,0 | 31,0 | 15,5 | 2,6 | 41 | 44 |
| FP.K 177137 | 45,0 | 35,0 | 16,4 | 6,35 | 40,4 | 43,5 |
| FP.K 180100 | 48,0 | 38,0 | 16,4 | 6,35 | 43,4 | 47 |
| FP.K 196133 | 50,0 | 34,0 | 18,4 | 6,35 | 45,4 | 48,5 |
| FP.K 196000 | 50,0 | 34,0 | 20,5 | 3,1 | 46 | 49 |
| FP.K 197000 | 50,0 | 38,0 | 20,5 | 4,2 | 46 | 48,5 |
| FP.K 216153 | 55,0 | 39,0 | 18,4 | 6,35 | 50,36 | 53,5 |
| FP.K 216000 | 55,0 | 39,0 | 20,5 | 3,1 | 51 | 54 |
| FP.K 217000 | 56,0 | 40,0 | 20,5 | 3,1 | 52 | 55 |
| FP.K 236173 | 60,0 | 44,0 | 18,4 | 6,35 | 55,4 | 58,5 |
| FP.K 236000 | 60,0 | 44,0 | 20,5 | 3,1 | 56 | 59 |
| FP.K 237000 | 60,0 | 48,0 | 20,5 | 4,2 | 56 | 58,5 |
| FP.K 248185 | 63,0 | 47,0 | 18,4 | 6,35 | 58,4 | 61,5 |
| FP.K 248000 | 63,0 | 47,0 | 19,4 | 6,35 | 58,4 | 61,5 |
| FP.K 249000 | 63,0 | 47,0 | 20,5 | 3,1 | 59 | 62 |
| FP.K 250000 | 63,0 | 51,0 | 20,5 | 4,2 | 59 | 61,5 |
| FP.K 251000 | 65,0 | 49,0 | 20,5 | 3,1 | 61 | 64 |
| FP.K 255196 | 65,0 | 50,0 | 18,4 | 6,35 | 60,4 | 63,5 |
| FP.K 275196 | 70,0 | 50,0 | 22,4 | 6,35 | 64,2 | 68,3 |
| FP.K 276000 | 70,0 | 54,0 | 20,5 | 3,1 | 66 | 69 |
| FP.K 277000 | 70,0 | 58,0 | 20,5 | 4,2 | 66 | 68,5 |
| FP.K 295216 | 75,0 | 55,0 | 22,4 | 6,35 | 69,2 | 73,3 |
| FP.K 314236 | 80,0 | 60,0 | 22,4 | 6,35 | 74,15 | 78,3 |
| FP.K 315000 | 80,0 | 62,0 | 22,5 | 3,6 | 76 | 79 |
| FP.K 316000 | 80,0 | 66,0 | 22,5 | 5,2 | 76 | 78,5 |
| FP.K 334255 | 85,0 | 65,0 | 22,4 | 6,35 | 79,15 | 83,3 |
| FP.K 335000 | 88,0 | 68,0 | 22,4 | 6,35 | 82,2 | 87 |
| FP.K 354275 | 90,0 | 70,0 | 22,4 | 6,35 | 84,15 | 88,3 |
| FP.K 355000 | 90,0 | 72,0 | 22,5 | 3,6 | 86 | 89 |
| FP.K 356000 | 90,0 | 76,0 | 22,5 | 5,2 | 86 | 88,5 |
| FP.K 374295 | 95,0 | 75,0 | 22,4 | 6,35 | 89,15 | 93,3 |
| FP.K 393295 | 100,0 | 75,0 | 22,4 | 6,35 | 93,15 | 98 |
| FP.K 394000 | 100,0 | 82,0 | 22,5 | 3,6 | 96 | 99 |
| FP.K 395000 | 100,0 | 86,0 | 22,5 | 5,2 | 96 | 98,5 |
| FP.K 413314 | 105,0 | 80,0 | 22,4 | 6,5 | 98,1 | 103 |
| FP.K 413500 | 108,0 | 83,0 | 22,4 | 6,35 | 101,1 | 107 |
| FP.K 433334 | 110,0 | 85,0 | 22,4 | 6,35 | 103,1 | 108 |
| FP.K 434000 | 110,0 | 92,0 | 22,5 | 3,6 | 106 | 109 |
| FP.K 435000 | 110,0 | 96,0 | 22,5 | 5,2 | 106 | 109,4 |
| FP.K 452354 | 115,0 | 90,0 | 22,4 | 6,35 | 108,1 | 113 |
| FP.K 453000 | 115,0 | 97,0 | 22,5 | 3,6 | 111 | 114 |
| FP.K 472374 | 120,0 | 95,0 | 22,4 | 6,35 | 113,1 | 118 |
| FP.K 473000 | 120,0 | 106,0 | 22,5 | 5,2 | 116 | 118,5 |
| FP.K 492393 | 125,0 | 100,0 | 25,4 | 6,35 | 118,1 | 123 |
| FP.K 493000 | 125,0 | 103,0 | 26,5 | 5,2 | 121 | 124 |
| FP.K 494000 | 125,0 | 108,0 | 26,5 | 7,2 | 121 | 124,4 |
| FP.K 495000 | 128,0 | 103,0 | 25,4 | 6,35 | 121,1 | 127 |
| FP.K 511413 | 130,0 | 105,0 | 25,4 | 9,5 | 122,6 | 127,5 |
| FP.K 511413/1 | 130,0 | 105,0 | 25,4 | 6,35 | 123,1 | 128 |
| FP.K 531433 | 135,0 | 110,0 | 25,4 | 9,5 | 127,6 | 132,5 |
| FP.K 531433/1 | 135,0 | 110,0 | 25,4 | 6,35 | 128,1 | 133 |
| FP.K 551452 | 140,0 | 115,0 | 25,4 | 9,5 | 132,6 | 137,5 |
| FP.K 551452/1 | 140,0 | 115,0 | 25,4 | 6,35 | 133 | 138 |
| FP.K 552000 | 140,0 | 118,0 | 26,5 | 5,1 | 136 | 139 |
| FP.K 553000 | 140,0 | 123,0 | 26,5 | 7,2 | 136 | 138,5 |
| FP.K 570472 | 145,0 | 120,0 | 25,4 | 9,5 | 137,6 | 142,5 |
| FP.K 570472/1 | 145,0 | 120,0 | 25,4 | 6,35 | 138,3 | 142,95 |
| FP.K 580000 | 148,0 | 123,0 | 25,4 | 9,5 | 140,6 | 147 |
| FP.K 590492 | 150,0 | 125,0 | 25,4 | 9,5 | 142,6 | 147,5 |
| FP.K 590492/1 | 150,0 | 125,0 | 25,4 | 6,35 | 143 | 148 |
| FP.K 591000 | 150,0 | 128,0 | 26,5 | 5,1 | 146 | 149 |
| FP.K 592000 | 150,0 | 133,0 | 26,5 | 7,2 | 146 | 149,5 |
| FP.K 610511 | 155,0 | 130,0 | 25,4 | 9,5 | 147,6 | 152,5 |
| FP.K 629531 | 160,0 | 135,0 | 25,4 | 9,5 | 152,6 | 157,5 |
| FP.K 630000 | 160,0 | 138,0 | 26,5 | 5,1 | 156 | 159 |
| FP.K 631000 | 160,0 | 143,0 | 26,5 | 7,2 | 156 | 159,4 |
| FP.K 649551 | 165,0 | 140,0 | 25,4 | 9,5 | 157,6 | 162,5 |
| FP.K 650000 | 168,0 | 143,0 | 25,4 | 9,5 | 160,6 | 167 |
| FP.K 669570 | 170,0 | 145,0 | 25,4 | 12,7 | 161,7 | 167,1 |
| FP.K 688590 | 175,0 | 150,0 | 25,4 | 12,7 | 166,7 | 172,1 |
| FP.K 689000 | 180,0 | 150,0 | 35,4 | 6,35 | 172,95 | 177,87 |
| FP.K 708610 | 180,0 | 155,0 | 25,4 | 12,7 | 171,7 | 177,1 |
| FP.K 728629 | 185,0 | 160,0 | 25,4 | 12,7 | 176,7 | 182,1 |
| FP.K 729000 | 188,0 | 163,0 | 25,4 | 12,7 | 179,7 | 187 |
| FP.K 748649 | 190,0 | 165,0 | 25,4 | 12,7 | 181,7 | 187 |
| FP.K 767669 | 195,0 | 170,0 | 25,4 | 12,7 | 186,7 | 192 |
| FP.K 787688 | 200,0 | 175,0 | 25,4 | 12,7 | 191,6 | 197 |
| FP.K 826728 | 210,0 | 185,0 | 25,4 | 12,7 | 201,6 | 207 |
| FP.K 835000 | 215,0 | 190,0 | 25,4 | 12,7 | 206,6 | 214 |
| FP.K 836000 | 220,0 | 190,0 | 35,5 | 6,35 | 212,7 | 217,9 |
| FP.K 866767 | 220,0 | 195,0 | 25,4 | 12,7 | 211,6 | 217 |
| FP.K 905807 | 230,0 | 205,0 | 25,4 | 12,7 | 221,6 | 227 |
| FP.K 944846 | 240,0 | 215,0 | 25,4 | 12,7 | 231,6 | 237 |
| FP.K 945000 | 250,0 | 220,0 | 35,4 | 6,35 | 242,9 | 247,85 |
| FP.K 984886 | 250,0 | 225,0 | 25,4 | 12,7 | 241,6 | 247 |