Guarnizioni per pistone tipo GPU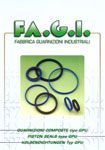 Condition of use:
Piston seals type GPU, made of polyurethane and NBR, must be used in working conditions within the following limits:
- Pressure: 0 to 250 Bar at 60°C;
- Temperature: -30 to 100°C
- Speed up to 0,5 m/sec.
- Mineral Oil
Please will contact our engineering department if you have particular operating conditions.

Assembly:
The assembly of piston seals GPU is not particurarly difficult because the material is elastic and the seals need a small housing.
It is useful, though not indispendable, to lubrificate the seat and the gasket using the same fluid as in the system or chemically compatible lubricant.


| | | | |
| --- | --- | --- | --- |
| Articolo | D | d | H |
| GPU 020125 | 20 | 12,5 | 3,2 |
| GPU 025175 | 25 | 17,5 | 3,2 |
| GPU 030225 | 30 | 22,5 | 3,2 |
| GPU 032245 | 32 | 24,5 | 3,2 |
| GPU 035275 | 35 | 27,5 | 3,2 |
| | | | |
| GPU 040290 | 40 | 29 | 4,2 |
| GPU 040245 | 40 | 24,5 | 6,3 |
| GPU 040270 | 40 | 27 | 6,3 |
| GPU 045340 | 45 | 34 | 4,2 |
| GPU 045032 | 45 | 32 | 6,3 |
| | | | |
| GPU 050390 | 50 | 39 | 4,2 |
| GPU 050345 | 50 | 34,5 | 6,3 |
| GPU 050370 | 50 | 37 | 6,3 |
| GPU 055440 | 55 | 44 | 4,2 |
| GPU 055395 | 55 | 39,5 | 6,3 |
| | | | |
| GPU 058450 | 58 | 45 | 6,3 |
| GPU 060490 | 60 | 49 | 4,2 |
| GPU 060445 | 60 | 44,5 | 6,3 |
| GPU 063520 | 63 | 52 | 4,2 |
| GPU 063530 | 63 | 53 | 5 |
| | | | |
| GPU 063475 | 63 | 47,5 | 6,3 |
| GPU 063500 | 63 | 50 | 6,3 |
| GPU 065520 | 65 | 52 | 6,3 |
| GPU 065540 | 65 | 54 | 6,3 |
| GPU 070590 | 70 | 59 | 4,2 |
| | | | |
| GPU 070545 | 70 | 54,5 | 6,3 |
| GPU 070570 | 70 | 57 | 6,3 |
| GPU 075595 | 75 | 59,5 | 6,3 |
| GPU 075640 | 75 | 64 | 4,2 |
| GPU 075620 | 75 | 62 | 6,3 |
| | | | |
| GPU 080645 | 80 | 64,5 | 6,3 |
| GPU 080665 | 80 | 66,5 | 6,3 |
| GPU 080590 | 80 | 59 | 8,1 |
| GPU 0805900 | 80 | 59 | 10,5 |
| GPU 085715 | 85 | 71,5 | 6,3 |
| | | | |
| GPU 090745 | 90 | 74,5 | 6,3 |
| GPU 090690 | 90 | 69 | 8,1 |
| GPU 0906900 | 90 | 69 | 10,5 |
| GPU 095795 | 95 | 79,5 | 6,3 |
| GPU 100845 | 100 | 84,5 | 6,3 |
| | | | |
| GPU 100865 | 100 | 86,5 | 6,3 |
| GPU 100790 | 100 | 79 | 8,1 |
| GPU 105895 | 105 | 89,5 | 6,3 |
| GPU 110945 | 110 | 94,5 | 6,3 |
| GPU 110890 | 110 | 89 | 8,1 |
| | | | |
| GPU 1108900 | 110 | 89 | 10,5 |
| GPU 115940 | 115 | 94 | 8,1 |
| GPU 1201045 | 120 | 104,5 | 6,3 |
| GPU 1209900 | 120 | 99 | 10,5 |
| GPU 1251095 | 125 | 109,5 | 6,3 |
| | | | |
| GPU 125104 | 125 | 104 | 8,1 |
| GPU 1251040 | 125 | 104 | 10,5 |
| GPU 1401190 | 140 | 119 | 10,5 |
| GPU 1401192 | 140 | 119 | 12,5 |
| GPU 1501290 | 150 | 129 | 10,5 |
| | | | |
| GPU15012900 | 150 | 129 | 8,1 |
| GPU 160139 | 160 | 139 | 8,1 |
| GPU 180159 | 180 | 159 | 8,1 |
| GPU 200179 | 200 | 179 | 8,1 |
| GPU 2001752 | 200 | 175 | 12,5 |