Guarnizioni in poliuretano tipo FS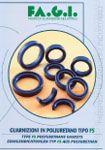 The packings in polyurethane type FS are indicated for the sealing on rod with asymme-tric lips. The assembly of gaskets type FS for rods is not particularly difficult because the material is elastic and highly tear resistant, which eliminates the risk of damage to the sealing lips during assembly. It is useful, though not indispensable, to lubricate the seat and the housing using the some fluid as in the system and chemically compatible lubricant.

Condition of use

Type FS polyurethane gaskets must be used in working conditions within the following limits:

Pressure 0 to 500 bar (50 MPa or N/mm2)
Temperature: -40 to + 105°C
Speed up to 0,8 m/sec (50 min)
Fluids, mineral hydraulic oils, mineral lubricants
Dimensions according to standard IS0 5597

Please contact our engineering department if you how particular operating conditions.
Riferimento
d
D
h
H
FS
6 12
6
12
5,5
5,8
FS
6 14
6
14
5,7
6,3
FS
8 16
8
16
5,7
6,3
FS
8 18
8
18
8
9
FS
10 18
10
18
5,7
6,3
FS
10 20
10
20
7,2
8
FS
10 20/1
10
20
8
9
FS
12 20
12
20
5,7
6,4
FS
12 22
12
22
7,2
8
FS
12 22/1
12
22
8
9
FS
14 22
14
22
5,7
6,3
FS
14 24
14
24
7,2
8
FS
14 24/1
14
24
8
9
FS
15 23
15
23
5,7
6,3
FS
15 25
15
25
5,7
6,3
FS
16 24
16
24
5,7
6,3
FS
16 24/1
16
24
6,2
7
FS
16 26
16
26
7,2
8
FS
16 26/1
16
26
8
9
FS
16 26/2
16
26
9
10
FS
18 24
18
24
4,7
5,2
FS
18 26/1
18
26
5,7
6,3
FS
18 26/1
18
26
8
9
FS
18 28
18
28
7,2
8
FS
18 28/1
18
28
8
9
FS
20 26
20
26
5
5,5
FS
20 28
20
28
5,7
6,3
FS
20 28/1
20
28
6,2
7
FS
20 28/2
20
28
7,2
8
FS
20 30
20
30
7,2
8
FS
20 30/1
20
30
8
9
FS
20 30/2
20
30
10
11
FS
20 35
20
35
10
11
FS
22 30
22
30
5,7
6,3
FS
22 32
22
32
7,2
8
FS
22 32/1
22
32
8
9
FS
22 32/2
22
32
10
11
FS
24 34
24
34
7,2
8
FS
24 34/1
24
34
8,5
9,5
FS
25 33
25
33
5,7
6,3
FS
25 33/1
25
33
6,3
7
FS
25 33/2
25
33
7,2
8
FS
25 33/3
25
33
10
11
FS
25 35
25
35
7,2
8
FS
25 35/1
25
35
8
9
FS
25 35/2
25
35
10
11
FS
25 38
25
38
9
10
FS
25 40
25
40
10
11
FS
28 36
26
36
5,7
6,3
FS
28 38
28
38
7,2
8
FS
28 38/1
28
38
8
9
FS
28 38/2
28
38
10
11
FS
28 40
28
40
8,5
9,5
FS
28 43
28
43
11,5
12,5
FS
30 38
30
38
5,7
6,3
FS
30 38/1
30
38
8
9
FS
3O 40
30
40
5,7
6,3
FS
30 40/1
30
40
7,2
8
FS
30 40/2
30
40
9,5
10,5
FS
30 40/3
30
40
10
11
FS
30 43
30
43
9
10
FS
30 45
30
45
8
9
FS
30 45/1
30
45
10
11
FS
32 40
32
40
5,7
6,3
FS
32 40/1
32
40
8
9
FS
32 42
32
42
7,2
8
FS
32 42/1
32
42
10
11
FS
32 45
32
45
9,5
10,5
FS
32 47
32
47
10
11
FS
33 43
33
43
10
11
FS
35 43
35
43
5,7
6,3
FS
35 43/1
35
43
8
9
FS
35 45
35
45
7,2
8
FS
35 45/1
35
45
10
11
FS
35 45/2
35
45
12,5
13,5
FS
35 46
35
46
8
9
FS
35 46/1
35
46
9
10
FS
35 50
35
50
10
11
FS
35 55
35
55
12
13
FS
36 46
36
46
7,2
8
FS
36 46/1
36
46
10
11
FS
36 48
36
48
8
9
FS
36 51
36
51
10
11
FS
36 51/1
36
51
11,5
12,5
FS
38 45
38
45
5
5,5
FS
38 45/1
38
45
6,2
7
FS
40 48
40
48
5,7
6,3
FS
40 50
40
50
7,2
8
FS
40 50/1
40
50
10
11
FS
40 50/2
40
50
12,5
13,5
FS
40 52
40
52
8
9
FS
40 55
40
55
10
11
FS
40 55/1
40
55
11,5
12,5
FS
40 60
40
60
12
13
FS
42 62
42
62
12
13
FS
42 62/1
42
62
10
11
FS
45 53
45
53
5,7
6,3
FS
45 53/1
45
53
10
11
FS
45 53/2
45
53
12
13
FS
45 55
45
55
7,2
8
FS
45 55/1
45
55
10
11
FS
45 58
45
58
9
10
FS
45 60
45
60
10
11
FS
45 60/1
45
60
11,5
12,5
FS
45 65
45
65
10
11
FS
45 65/1
45
65
12
13
FS
45 65/2
45
65
13,5
14,5
FS
46 56
46
56
7,2
8
FS
50 60
50
60
7,2
8
FS
50 60/1
50
60
10
11
FS
50 60/2
50
60
12
13
FS
50 62
50
62
8
9
FS
50 65
50
65
10
11
FS
50 65/1
50
65
11,5
12,5
FS
50 68
50
68
9
10
FS
50 70
50
70
10
11
FS
50 70/1
50
70
12
13
FS
50 70/2
50
70
13,5
14,5
FS
55 63
55
63
12
13
FS
55 65
55
65
7,2
8
FS
55 65/1
55
65
10
11
FS
55 65/2
55
65
12
13
FS
55 65/3
55
65
13,5
14,5
FS
55 67
55
67
10
11
FS
55 70
55
70
10
11
FS
55 70/1
55
70
12
13
FS
55 75
55
75
12
13
FS
55 75/1
55
75
13,5
14,5
FS
56 66
56
66
10
11
FS
56 71
56
71
10
11
FS
56 71/1
56
71
11,5
12,5
FS
56 76
56
76
12
13
FS
56 76/1
56
76
13,5
14,5
FS
56 76/2
56
76
15
16
FS
60 70
60
70
7,2
8
FS
60 70/1
60
70
10
11
FS
60 70/2
60
70
12
13
FS
60 72
60
72
8
9
FS
60 72/1
60
72
9
10
FS
60 75
60
75
10
11
FS
60 75/1
60
75
12
13
FS
60 77
60
77
11
12
FS
60 80
60
80
12
13
FS
60 80/1
60
80
13,5
14,5
FS
61 69
61
69
7,5
8,5
FS
62 74
62
74
13
14
FS
63 73
63
73
10
11
FS
63 73/1
63
73
12
13
FS
63 78
63
78
10
11
FS
63 78/1
63
78
11,5
12,5
FS
63 78/2
63
78
12
13
FS
63 83
63
83
12
13
FS
63 83/1
63
83
13,5
14,5
FS
63 83/2
63
83
15
16
FS
65 75
65
75
10
11
FS
65 75/1
65
75
12
13
FS
65 75/2
65
75
13,5
14,5
FS
65 77
65
77
9
10
FS
65 80
65
80
10
11
FS
65 80/1
65
80
12
13
FS
65 85
65
85
12
13
FS
65 85/1
65
85
13,5
14,5
FS
70 80
70
80
6
6,5
FS
70 80/1
70
80
7,2
8
FS
70 80/2
70
80
10
11
FS
70 80/3
70
80
12
13
FS
70 85
70
85
10
11
FS
70 85/1
70
85
11,5
12,5
FS
70 85/2
70
85
12
13
FS
70 90
70
90
12
13
FS
70 90/1
70
90
13,5
14,5
FS
70 90/2
70
90
15
16
FS
75 85
75
85
7,2
8
FS
75 85/1
75
85
12
13
FS
75 90
75
90
10
11
FS
75 90/1
75
90
12
13
FS
75 95
75
95
12
13
FS
75 95/1
75
95
13,5
14,5
FS
76 84
76
85
7,5
8,5
FS
80 90
80
90
7,2
8
FS
80 90/1
80
90
12
13
FS
80 90/2
80
90
14
15
FS
80 95
80
95
10
11
FS
80 95/1
80
95
11,5
12,5
FS
80 95/2
80
95
12
13
FS
80 100
80
100
12
13
FS
80 100/1
80
100
13,5
14,5
FS
80 100/2
80
100
15
16
FS
85 95
85
95
7,2
8
FS
85 100
85
100
11
12
FS
85 100/1
85
100
12
13
FS
85 105
85
105
12
13
FS
85 105/1
85
105
13,5
14,5
FS
90 100
90
100
11,5
12,5
FS
90 105
90
105
8,5
9,5
FS
90 105/1
90
105
9,5
10,5
FS
90 105/2
90
105
11,5
12,5
FS
90 105/3
90
105
12
13
FS
90 110
90
110
12
13
FS
90 110/1
90
110
15
16
FS
91 99
91
99
7,5
8,5
FS
93 104
93
104
10
11
FS
95 105
95
105
10
11
FS
95 115
95
115
12
13
FS
100 110
100
110
14
15
FS
100 113
100
113
12,5
13,5
FS
100 115
100
115
10,5
11,5
FS
100 115/1
100
115
12
13
FS
100 120
100
120
12
13
FS
100 120/1
100
120
13,5
14,5
FS
100 120/2
100
120
15
16
FS
100 125
100
125
19
20
FS
105 115
105
115
10
11
FS
105 115/1
100
115
11,5
12,5
FS
105 115/2
105
115
13,5
14,5
FS
105 125
105
125
12
13
FS
110 125
110
125
11
12
FS
110 125/1
110
125
15
16
FS
110 130
110
130
12
13
FS
110 130/1
110
130
15
16
FS
110 135
110
135
19
20
FS
115 135
115
135
12
13
FS
120 130
120
130
7,2
8
FS
120 130/1
120
130
11,5
12,5
FS
120 132
120
132
10
11
FS
120 135
120
135
11,5
12,5
FS
120 135/1
120
135
15
16
FS
120 140
120
140
12
13
FS
120 140/1
120
140
15
16
FS
125 145
125
145
12
13
FS
125 145/1
125
145
15
16
FS
125 150
125
150
14
15